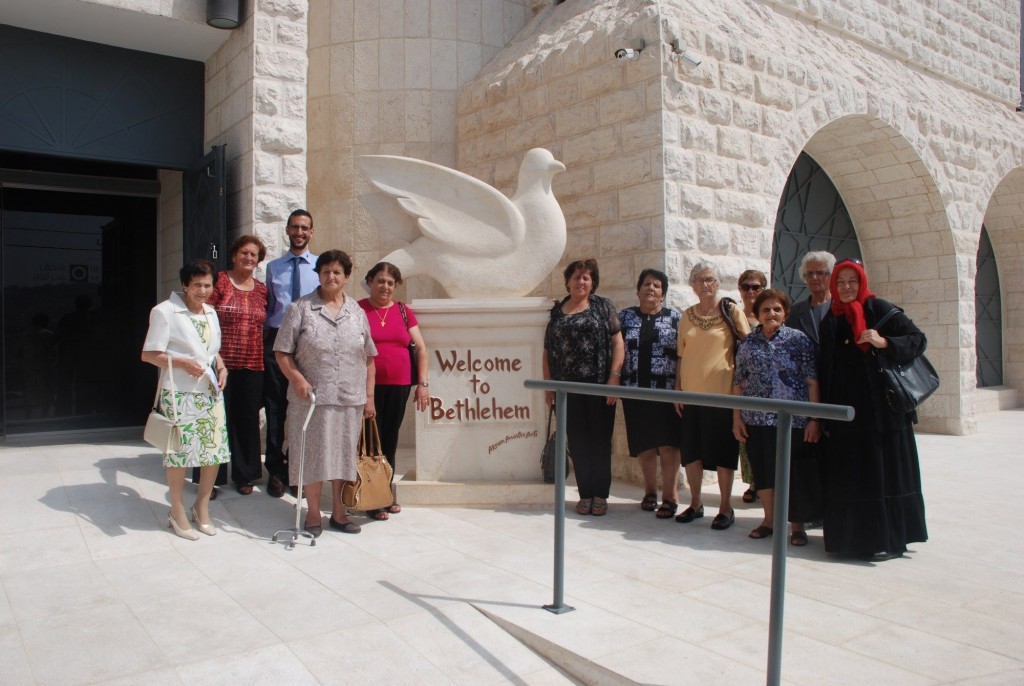 BETHLEHEM – The Bethlehem Museum has been open to the public since February of this year, and has since had a consistent stream of visitors that include foreign dignitaries and diplomats. This week, the Bethlehem Museum welcomed another group of honored guests. On Monday, September 7,  elder members of the Birzeit Senior Citizen Center (BSCC) took part in a guided tour around the Bethlehem Museum and afterwards enjoyed an exquisite lunch of home-style mlokhiye at the Museum's Al Karmeh restaurant. Among the visitors was Mrs. Jamilah Aranky, representative and volunteer of HCEF at Birzeit, and one of the co founders of the BSCC.
During their tour, the group expressed amazement upon learning that the ancient Roman Aqueduct in display at the Museum served the purpose of transporting water all the way from Hebron to Jerusalem – a true feat of engineering for the time.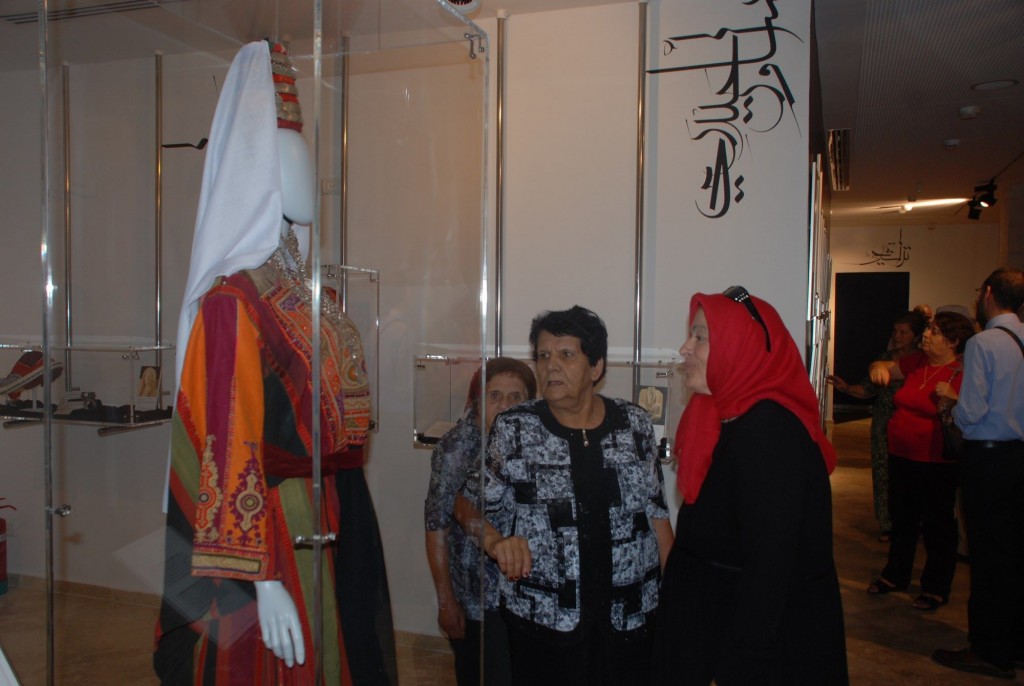 They were also keen to learn about the history of the traditional dresses and embroidery in Palestine and how they used to express a woman's hometown and faith. While appreciating the beautiful designs and attractive colors of the dresses exhibited at the Museum, one of the women affirmed with deep emotion and nostalgia, "This is how we used to dress, all of us, Christians and Muslims".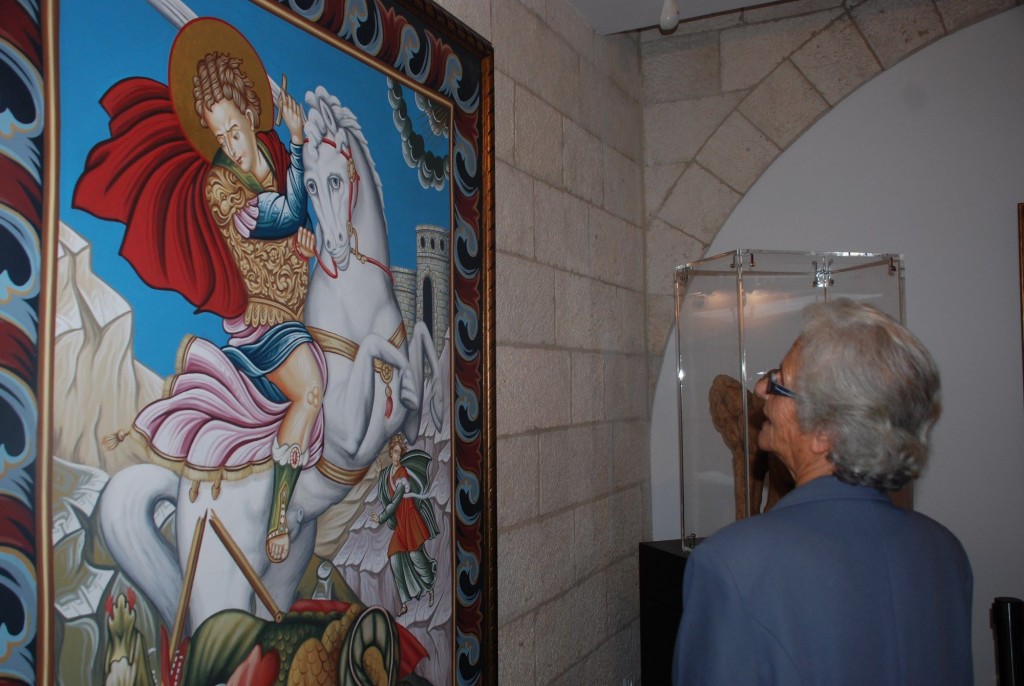 Other objects, such as the ancient Bible on display and the beautifully painted icon of St. George –a Palestinian Saint– captured the group's attention and admiration. For many, it was the first time they saw an old copy of the Holy Book in the Arabic language with both the New and Old Testament.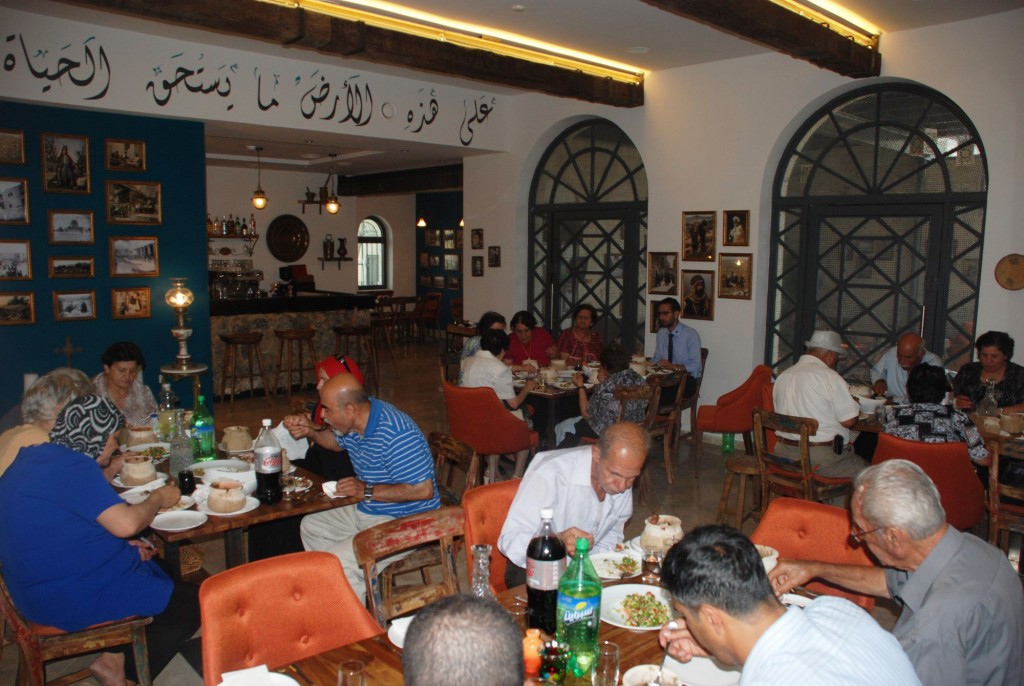 The Birzeit Senior Citizen Center, a project of the Holy Land Christian Ecumenical Foundation, was established more than three years ago by Father Anton Buzo and currently serves around 60 elders in Birzeit. Through this program, HCEF contributes to the lives of those who have preserved our society and built our communities. Through BSCC, with plenty to do and special attention by caring staff, the elders feel useful and loved, thus creating an atmosphere of hope and belonging.
Every month, BSCC organizes both outdoor and indoor activities for its members. The visit to the Bethlehem Museum was an exceptional opportunity for the elders to know more about Bethlehem's traditions and culture, and to enjoy a time of both learning and leisure.
If you feel moved by the work of BSCC and would like to aid its mission to serve the elders of Palestine, please donate today HERE